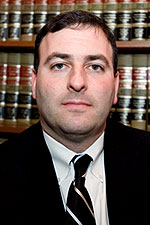 Jamie G. Rosner graduated from Half Hollow Hills High School West in 1991. He graduated from Brandeis University in 1995 with a BA in American Studies.
He was accepted to St. John's University School of Law in 1996 and interned in a Nassau County law firm throughout law school where he worked on personal injury and commercial litigation.
In 2000, shortly after graduation from law school, he joined the law firm of Keegan & Keegan in Patchogue. Mr. Rosner's legal education and training flourished at Keegan & Keegan under the supervision of senior partner Thomas J. Keegan Jr. Mr. Rosner focuses primarily on personal injury, commercial litigation, collection, real estate and criminal cases.
Thomas J. Keegan Sr. was invaluable in instilling in Mr. Rosner the tools necessary for a successful law career. Partner Daniel C. Ross, who runs the firm's Mattituck office, was essential in Mr. Rosner's training as a trial attorney.
Mr. Rosner worked with Keegan & Keegan through October 2004, handling motions, appeals, arbitrations, court appearances and trials.
In October 2004, Mr. Rosner was made partner and the firm name was changed to Keegan & Keegan, Ross & Rosner. Mr. Rosner has developed a reputation for not being afraid of the hard case, obtaining recovery for his clients in cases that other firms refuse to litigate.
Mr. Rosner presently handles the firm's court appearances throughout Long Island and particularly frequents Central Islip and Nassau County and focuses his attention on the firm's appellate work, motion practice, arbitrations, depositions and trials.
Mr. Rosner resides with his wife and family in Bayport, where he is an active member of the Bayport/Blue Point Chamber of Commerce.