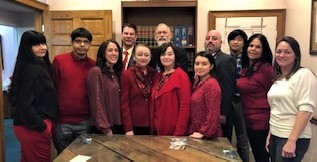 Keegan & Keegan, Ross & Rosner was formed in 1978, when Thomas J. Keegan Jr. joined the firm of his father, who had been practicing law in Patchogue since the 1950s. The practice has since expanded with the addition of Daniel C. Ross and Jamie G. Rosner as partners and is now known as Keegan & Keegan, Ross & Rosner.
With offices in Patchogue and Mattituck, the firm provides full-service legal representation to Suffolk County residents and the greater Long Island, New York Metro region.
The firm's three partners are supported by a staff of associate attorneys, paralegals and legal assistants who utlize the latest in office technology, ensuring efficient service for our clients. Our Spanish-speaking personnel include both attorneys and support staff.
The office has extensive experience in many areas of the law. Its concentration is in personal injury, motor vehicle and pedestrian accidents, slip and falls, medical malpractice, products liability and environmental exposure. The firm provides services in matrimonial and family court matters.
Keegan & Keegan, Ross & Rosner also concentrates on business matters, including corporate formation, commercial litigation and collections. As former counsel to local governments, it has valuable experience in municipal law.
Representation of clients in criminal matters, including vehicle and traffic offenses and DWI is also provided. The firm handles real estate matters, including residential and commercial property transactions and landlord and tenant cases.
The firm offers a free initial consultation and accepts major credit cards. Please also see our Client Bill of Rights.