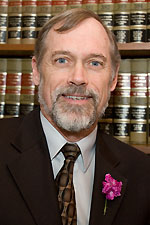 Born in Brooklyn and raised in Suffolk County, Tom and his wife Peggy have called Patchogue home for more than 50 years, where they raised their two children who are both married and each have two children of their own.
Tom graduated from Seton Hall High School, Dowling College and St. John's University School of Law. He joined his father, Thomas Keegan Sr., who had been practicing law in Patchogue since the 1950s. They formed a partnership in 1978 that continues today as Keegan & Keegan, Ross & Rosner, LLP.
His legal experience began with Metropolitan Life Insurance Company, where he served in the Government Relations Division of the Group Life, Health and Pensions Department.
Mr. Keegan served as Village attorney, where he was responsible for developing various Village ordinances, as well prosecution of violations in Village Justice Court as Special Assistant District Attorney.
After his years of clamming the bays of the South Shore of Long Island, he worked at Metropolitan Life Insurance Company and later supervised an underwriting unit at Equitable Life Assurance Society, while attending both undergraduate school and law school at night. This diverse experience has served him well in providing invaluable insight into the inner workings of the insurance industry, with which he constantly battles for our clients.
As special counsel for the Village of Patchogue, his duties included the acquisition by the Village and sale for development of the 14-acre industrial parcel that became the hub of the revitalization of the West end of Patchogue.
In addition, Mr. Keegan has served Kiwanis International as president of the Patchogue Club and Lieutenant Governor of the Suffolk East division of the New York district.
Former Community Involvement Includes:
Lt. Governor of Suffolk East division of the New York District
Kiwanis International – President of the Patchogue Club
President of the Greater Patchogue Chamber of Commerce and President of the Greater Patchogue Foundation
Scout Leader of Boy Scout Troop 550
Trustee of St. Francis De Sales Church
- Committeeman for the Suffolk County Republican Committee.
In addition to the full time practice of law for over 30 years,
Tom draws on a diverse background of business experience, employment in the insurance industry, community volunteerism and hobbies that enables him to represent his clients at both the negotiating table and in the courtroom. "I frequently find useful application from diverse business and legal experiences in representing clients faced with unusual or challenging situations that must be answered – either by capable negotiation or effective litigation."
Other Notable Accomplishments:
Publisher and Editor-in-Chief of the St. PATchogue Wit and Wisdom News, an annual publication about life of the Irish in America with special emphasis on events of Long Island in general and the South Shore of Suffolk County in particular; entering its 17th year in 2013.
Conceived of, developed and produced the first Celtic Laser Light show that played to over 2,500 happy patrons at the Patchogue Theatre for the Performing Arts on a single night.